Bad Boy Boxing Gloves Leather Pro Series Advanced Kickboxing Boxing Training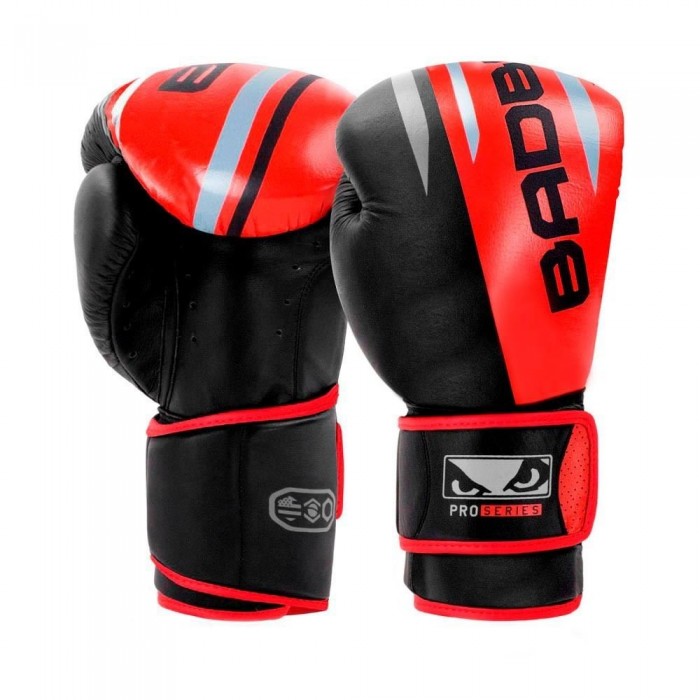 BAD BOY BOXING GLOVES LEATHER PRO SERIES ADVANCED RED BLACK
The Bad Boy Pro Series Advanced line is designed to surpass professional athletes' and Combat Sports competitions requirements.
Do not just practice, perform.
OPTIMAL CUSHIONING. The Bad Boy Pro Series Advanced Boxing Gloves are designed with compressed foam to ensure the protection you need during competition or training.
Their multi-layers construction combined with the wrist reinforcement absorb the shock and reduce significantly the vibrations from the peak impact zone to the rest of your hand/wrist articulation.
TARGETED STABILITY. Engineered with ergonomic shape to improve comfort, those Bad Boy Boxing Gloves feature an inner grasping bar for optimal hand positioning.
Through a better articular alignment and stability on each strike, you reduce the risk of injury. The wide wraparound elastic Velcro closure guarantees a precise adjustment for complete confidence when you are Boxing.
HIGH-INTENSITY RESPONSIVENESS. The Bad Boy Pro Series Advanced Boxing Gloves are engineered with a breathable lining to ease the sweat evacuation and keep your gear fresh, far away from moisture damages.
The mesh panels placed under the fist and the micro-perforation on thumb and palm regulate the thermal heat when the intensity raises.
FEATURES INCLUDE:
Premium Buffalo leather for unparalleled performances and durability
Multi-layers compressed foam with wrist reinforcement to ensure maximum shock absorption and dispersion
Ergonomic shape for superior comfort and support
Inner grasping bar and Velcro closing for optimal hand positioning on strikes
Breathable internal lining to ease sweat evacuation and keep your gear fresh
Mesh panel under the fist and micro-perforations to regulate thermal heat
Wraparound elastic
Velcro wrist closure for a fast and secure adjustment