AQF MMA Boxing Quick Wraps Inner Bandages Gel Gloves Muay Thai Stretch V2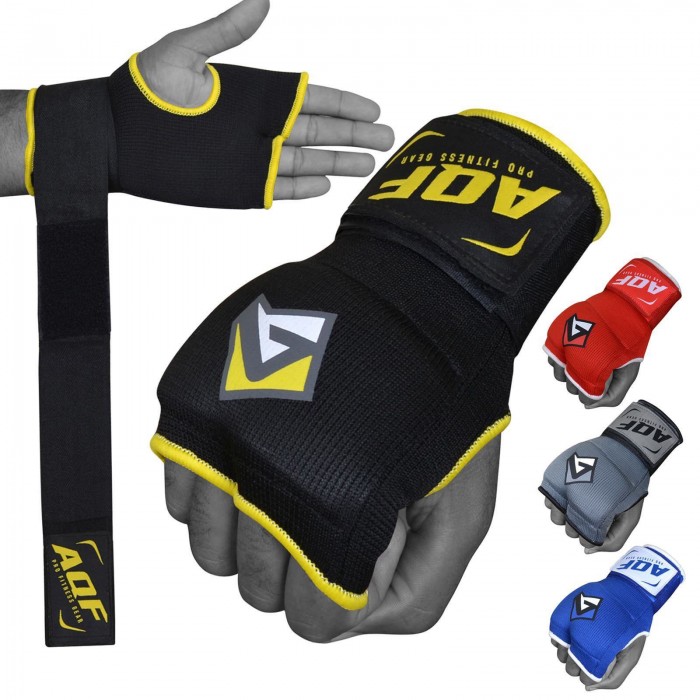 AQF Gel Padded gloves Inner Hand Wraps designed for boxers, Muay Thai and other Martial Arts. These gloves are made of breathable soft stretchable Polyester/Cotton material with cotton bandage hand wrap and Velcro closure. If you have suffered any knuckle Injury or upper hand injury further practice and training sessions can be difficult. These Gel padded gloves offer added protection and provide more effective alternative than the traditional hand wraps. These gloves will help you go through the training sessions with comfort and ease. Small and Medium sizes are recommended for anyone under the age of 14 Years.

Made of breathable cotton polyester material with aero gel padding.
AQF incorporates a specially foam insert to offer the maximum protection during the fight/training without compromising on weight.
Tough, light weight and very comfortable offering maximum protection.
100cm Hand wrap cotton bandage with Velcro closure.
Twin Stitched fingers with open thumb.
Available in Black, Blue, Grey and Red Colors with option of Small, Medium, Large and Extra Large size.