Kawasaki Cowhide Motorbike MotoGP Monster Leather Racing Suit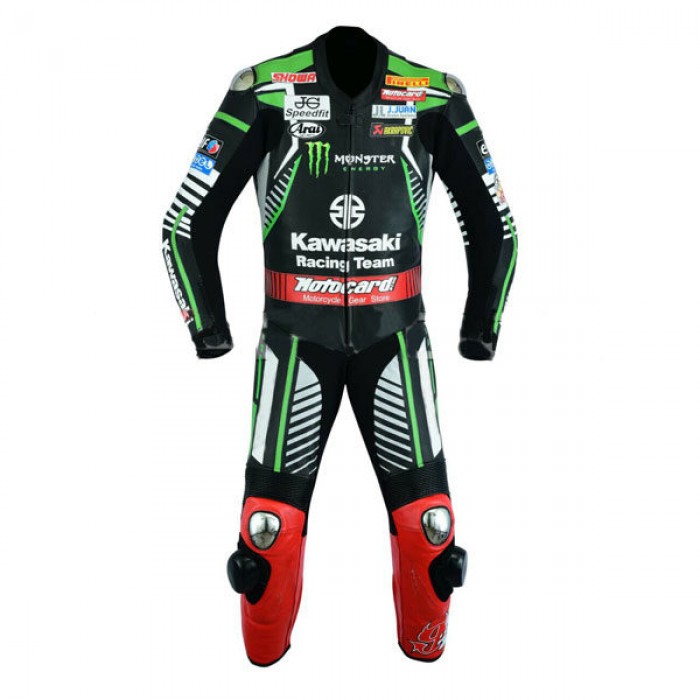 monster energy racing suit
monster energy racing suit
Motorbike MotoGP Monster Leather Racing Suit Ce Approved Protection with a tough skin and solid cowhide calfskin outwardly and lining polyester work settled inside the suit gives solace and assurance. All vulnerabilities are enough secured with removable CE defenders on shoulders, knees, back, hips and lower back territory. Skin in flex in the shoulder bones. What's more, stun cushioning on hips and arms seals.
Featured:
Accordion leather stretch panels on lower back and knees to improve flexibility and comfort.
Stretchable Cordura placed at specific areas of sleeves, crotch and calf for maximum stretch.
External CE approved protectors on shoulders, elbows and knees.
Pre-curved sleeves for proper riding position.
Semi auto-lock YKK zippers at front, cuff and calf.
Velcro reinforced strap on neck, cuff and calf.
Velcro's for attaching knee slider.
Monster Motorbike MotoGp suit also features soft neoprene cuff and collar construction.
Safety stitched with high strength nylon thread is used for maximum safety.
Inner Shell
Monster Motorbike MotoGp suit also have polyester mesh lining.
CE approved dual density (removable) armors at knees, shoulders and elbows.
Removable dual density (CE approved) spine protector.
Removable CE approved aerodynamic hump (Optional)
Jack Leathers has earned a distinct reputation in manufacturing and selling the high Quality leather jackets. With loads of eternal appeal and versatility, Leather Jacket Mall has always been adaptable and inspirational. The look of the leather is timeless; one can make a bold fashion statement and a wise investment at the same time. So if you are willing to make a fashion statement or a dashing entrance, just do it with only of its kind outfit-courtesy at https://rucatisports.com/
We have our on infrastructure and trained staff we use Grade A quality leather and also the imported other stuff used in making of jacket
We are expert manufacturers of leather clothing more than 20 years experience. All our clothing is manufactured by us in our factory with great care, to the highest standards of workmanship. Choose from our range of high quality men's leather jackets, women's leather jackets, celebrities' leather jackets and motorcycle jackets. All our clothing is exceptional for design & high street slim fit, quality to last. We use A GRADE high quality cow hide leather and top quality soft sheep leather for fashion jackets, Quality to last for a lifetime.
So please take a look at what we have to offer by either clicking on our categories to view our collection' If you require another color or different design in leather that is not in our collection please contact us by email to let us know your requirements on https://rucatisports.com/