Yamaha Red 46 Rossi Scooter Motorbike Leather jacket Men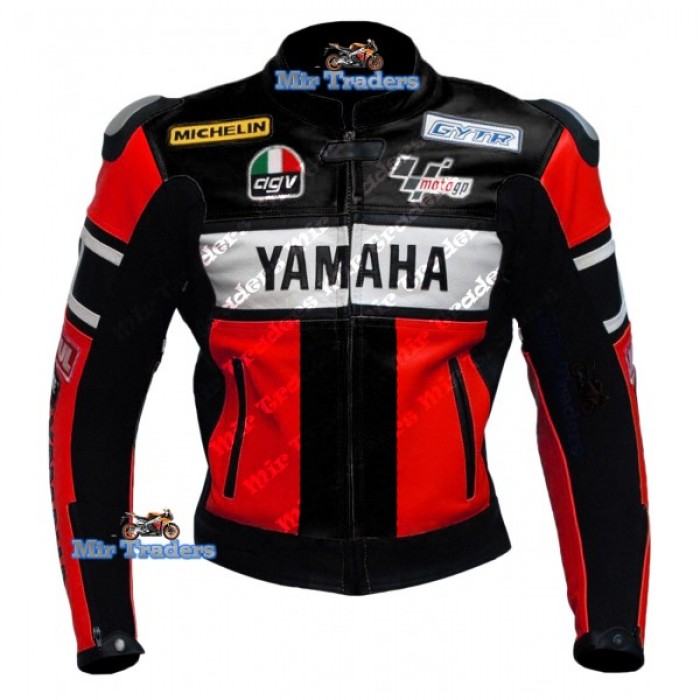 Red 46 Rossi Scooter Motorbike Leather jacket Men
Motorbike Racing Leather Jacket is especially designed for professional bikers to fulfill their biking passion on track with great safety. This jacket features excellent design & comfort, 100% genuine Cowhide leather, Approved internal & external Protectors on Shoulder, Elbows and Back, YKK Zippers for Performance. Full ventilated Chest to keep the biker cool while riding (Optional). Available in all sizes
Safety Features:
External CE approved Titanium protectors on Shoulders, Elbows and Back
Armor – 5 hard-plastic CE approved Armors

1 half inch tempered-form highly compressed back pad
2 flex plastic mould shoulder protections
2 flex plastic mould elbow protections

Dual density spine protector
Additional rubber padding for safety on critical parts
Pre-curved sleeves for proper riding position.
The Design:
100% Genuine Cowhide Top Grain Leather (1.2mm – 1.3mm)
YKK heavy duty genuine zippers throughout the jacket
Fully ventilated chest to keep the biker cooler during summer
External Titanium protectors on Shoulders & Elbows
YKK Zipper throughout Removable dual density armor at shoulders, and elbows
Designing Facility Available for Men or Women in Tailor Made Custom Size
Perforated Leather Panels
Embroidered or Printed Logos of any desired design
Schoeller-Keprotec® is optional for stretch material
High quality Leather patching work
Ventilation Zippers
Comfortable collars
Logos and colors as the pictures
Available in all sizes, XS, S, M, L, XL, XXL, XXXL, XXXXL AND XXXXXL:

​

No Extra Cost For Custom-Made i.e. Tailor Made leather Apparels till 2 XL Size.

We do our best to handle our customers' concerns on priority basis, and try to resolve any issue(s) if occur with no delay. You can buy jackets confidently as we accept returns. All Jackets are insured by leather edges and we do not charge extra amount from buyers for Insurance. For any further questions, please don't hesitate to contact us at

info@rucatisports.

com

. If you are unsure of your correct size and would like some additional assistance, please send us an email info@rucatisports.

com

with your measurements and the jacket(s) of interest.
Size Chart
JACKET (Men)
PRODUCT
SIZE
CONVERSION
GUIDE
BODY
MEASUREMENTS
A
B
C
D
E

U.S.




SIZE

EU
SIZE
INTL
SIZE

NECK




(CM)

SLEEVE




(CM)

CHEST




(CM)

WAIST




(CM)

HEIGHT




(CM)

32

42
XS
36.0
55.1
84.0
72.0
165.0

34

44
S
37.0
56.2
88.0
76.0
168.0

36

46
S
38.0
57.3
92.0
80.0
171.0

38

48
M
39.0
58.4
96.0
84.0
174.0

40

50
M
40.0
59.5
100.0
88.0
177.0

42

52
L
41.0
60.4
104.0
92.0
180.0

44

54
L
42.0
61.2
108.0
96.0
183.0

46

56
XL
43.0
62.1
112.0
100.0
186.0

48

58
XL
44.0
62.3
116.0
104.0
187.0

50

60
188.0
45.0
62.6
120.0
108.0
XXL
JACKET (WOMEN)
U.S.




SIZE

EU




SIZE

INTL




SIZE

NECK




(CM)

SLEEVE




(CM)

CHEST




(CM)

BREAST
(CM)

WAIST




(CM)

HEIGHT




(CM)

6

38
XXS
29.6
52.5
74.0
78.0
58.0
158.0
8
40
XS
30.6
53.5
78.0
82.0
62.0
161.0
10
42
S
31.6
54.5
82.0
86.0
66.0
164.0
12
44
M
32.6
55.5
86.0
90.0
70.0
167.0
14
46
M
33.6
56.5
90.0
94.0
74.0
170.0
16
48
L
34.6
57.5
94.0
98.0
78.0
173.0
18
50
XL
35.6
58.5
98.0
102.0
82.0
176.0
20
52
XL
36.6
58.8
102.0
106.0
86.0
177.0